June 20, 2009

We had an amazing couple days. Mike Hopwood filled in on keys while Frazer Wigg was ill. He did a great job of filling in. I am so blessed to have these great players available to play with. Have I mentioned the bass player, Kevin Roberts? He plays very well and really has a soulful voice. I really could sit in the crowd and just listen to these guys.

We played a great club in Brighton on Thursday called "The Latest Music Club", goofy name but nice place. They had a house PA and a good sound man. We had some friends come and see us for the 2nd time, and lots of howling!

Last night was the Bricklayer Arms in Shamley Green. It was a big crowd that took a while to get going, but by the end there was lots of howling again. We went past Eric Clapton's home on the way there. Bill had invited him to the gig! He didn't show up but we had a great time anyway. Bill had recorded in one of the same studios that Eric had in the 60s! I guess Ringo lives pretty close, too! There are rock stars all over the place here.


June 18, 2009

We played at Misty's Wine Bar in Littlehampton last night. Our keyboard player, Frazer, was unable to be with us. I hope he's feeling better soon.

We had a great crowd, and as usual, everyone watched and listened and didn't miss a thing. I'm not used to gettting that much attention. It really is a gift to a musician to really listen. Thanks to all of you in the audience! Playing in those conditions really does bring out the best in me. I want to give all I can when people are taking it in.

Earlier in the day Dick and his girlfriend, Carol, and I went to Arundel. There is a castle and a catherdral from the 12th century. The sign on the cathedral said, "Rebuilt in 1380"! It is simply amazing to see buildings that are that old.
June 17, 2009

Last night was the Jim Pitts Blues Workshop in Crawley. It was really a good experience. Jim and his wife have been doing it for more than 14 years! It's like our blues jam at the Five O'clock Club, but no drinking, a much more friendly environment at a community center every Tuesday night from 8 to 10. They break in the middle and have tea and biscuits (cookies)! There were more than a dozen guitarist, 2 sax players, harmonica, and a drummer and bassist. Dick & I gave a short presentation and everyone jammed. This might be something we could do in Sarasota. What do you think?

We DID go to Stonhenge on Monday. It was great! Amazing really. It's about an hour and a half from where I'm staying. You come over a hill and see it in the distance. It was £6.50 to get in. That included an audio tour. They give you a little playback unit that you listen to as you walk around. Because of vandalism, the don't let you get close enough to touch it anymore. The stones are not as tall as I imagined they would be. The first building in the area was started at about the same time the pyramids were being built. I had no idea the site was more than 5,000 years old. I'm really glad we went. We then drove another 25 minutes to Avesbury, which had another stone circle! Not as tall, but bigger and more accessible. It's surrounded by a moat. I've seen at least 4 ancient moats already. I'm very glad I got to go!

June 15, 2009

We played The Swan in Arundel last night. We had folks who had seen us earlier in the week come to see us again! The band sounded good. It was our 10th night in a row and everyone was playing great! I really feel lucky to be playing with such a great band!

I have the day off today. I asked about going to Stonehenge. They told me it's the most disappointing thing to do in Britain. We would drive about 2 hours from here to see it, then pay £8.50 to look at it from a distance behind a fence. So we're going to Brighton to visit the shore. The weather looks good!
June 13, 2009

I am staying in a small town called Angmering. My host doesn't have a computer or internet access. Today I'm at the library doing this update. I didn't know it when I took the picture, but the building below is the library!

Everyone in the U.K. has been great. I am playing all over the south. All the gigs are in England. England is green and full of flowers. All the houses I've been to have a garden to sit in, and everyone loves their flowers. The pubs all have some kind of outdoor area, mostly for smoking, but also green and beautiful for the most part.

We have had excellent response to the music. I'm playing pretty much what you would hear me play at home: some blues, some soul music, a dab of Hendrix, and my original stuff from my CD. People sit and watch intently. They sing along and howl along, which surprises my English bandmates. They all thought the crowd would be too reserved for that kind of response.

I'm missing Theresa, but so glad to be here and have this opportunity. I WILL bring her along next time!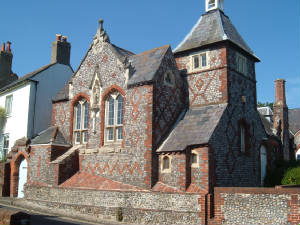 June 7, 2009

I'm here in the U.K.! What a beautiful place with wonderful people. Bill and Jackie picked me up at the airport. It was great to see them! I'm staying at Dick Middleton's place. He played with Gene Vincent. He's an amazing Tele player in the James Burton/Roy Buchanan style.
We've had 2 band rehearsals that went really well. We play a house party tonight, then the pubs start tomorrow. I am excited as I can be. I really miss Theresa!

May, 2009
I will be playing in the U.K. with a band from the U.K. called Southern Nights, with my good friend English Willie on drums. Here's a link to some info about them:
Southern Nights.
Those of you in the Sarasota area know English Willie from our local jam scene. He's gone back and forth from the U.S. to the U.K. for years. We haven't seen him around here in a while, though, so I'm really looking forward to seeing him again!